With over 10 years of experience in the industry, we bring extensive knowledge and expertise to every project. Trust us for reliable and efficient services.
uPVC Partitions: Transforming Spaces with Style
Discover the transformative power of uPVC partitions. These innovative solutions effortlessly redefine interiors, creating flexible divisions that maintain an open atmosphere. uPVC partitions combine aesthetic charm with practical functionality, allowing privacy without compromising on natural light. With modern designs to complement any setting, these partitions elevate your space's appeal while enhancing its overall dynamics.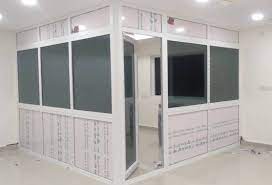 Flexible Divisions: uPVC partitions provide versatile space divisions without closing off areas completely, ensuring an open and airy atmosphere.

Privacy with Light: Enjoy privacy while allowing natural light to flow through, creating a comfortable and well-lit environment.

Modern Designs: Available in a range of contemporary designs, uPVC partitions seamlessly blend with various interior aesthetics.

Aesthetic Appeal: Enhance the visual appeal of your space with partitions that contribute to the overall ambiance.

Easy Maintenance: uPVC material is known for its durability and low maintenance requirements, ensuring long-lasting performance.

Customizable Options: Choose from different styles, sizes, and finishes to match your interior preferences.

Sound Insulation: uPVC partitions can provide effective sound insulation, contributing to a quieter environment.

Quick Installation: These partitions are relatively easy to install, minimizing disruption during setup.

Cost-Effective: uPVC partitions offer a cost-effective solution for creating functional divisions within a space.

Enhanced Space Utilization: Divide larger areas into more practical segments, optimizing space utilization for different activities.
Choose ANSH UPVC for your window and door needs, and experience the difference of superior quality, professional service, and customer satisfaction.